Biography
In 1999, Hervé founded TALES, with Frank Plagnard on guitar, and released in April 2001, a three-track "The land of the Sun" (out of print now), including the hit song "Why" is then a marked and voluntary return to Cold Wave after the more rock experience that was BEWARE.
The TALES project comes to an end and as a trigger, the search for the balance and the unique is then obvious: "WALLENBERG" was and will remain WALLENBERG.
Audio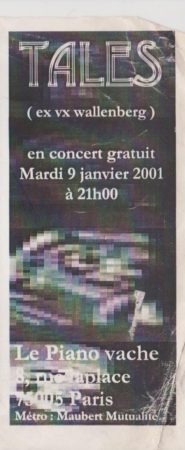 In 2001, the new project of the ex Wallenberg opens this new century with a first concert on January 09, 2001, under the name of Tales and accompanied by Frank on guitar, at the mythical Parisian bar le Piano Vache (which will host many gothic evenings for many years).
20 years later we offer you the recordings of this concert.
Download
"Why" @ Nouveau Casino (2002)
"The Land of the Sun" @ Nouveau Casino (2002)